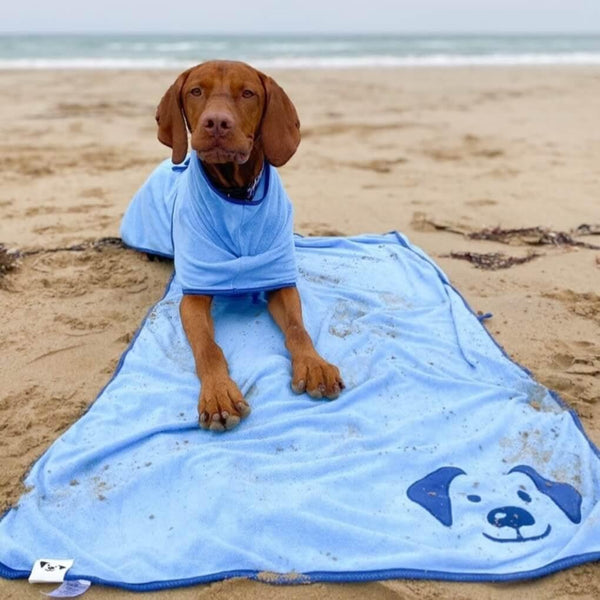 Top Tips for a dog friendly holiday
Top Tips for a dog friendly holiday
Many of us wouldn't think of going on holiday without taking our dog along too, and thankfully more and more places are now offering "dog friendly" accommodation. The key to any successful trip is to plan and be organised – so we've put together some helpful tips to make sure you all have the most fun while you are away.
Pay attention to the language in the booking information. Are dogs "accepted" or "welcome". In many places where dogs are only accepted it may be they need to be outside or restricted on the property.
Research the local area before you book. Are there local dog friendly walks, beaches, and cafes? Your dog won't be happy left in a strange house for long periods of time without you.
Is the garden dog friendly and secure? Dogs will want to explore their new surroundings, and a fully fenced or walled property will give you peace of mind when you let your dog out to the toilet.
Before you leave, make sure you visit the vet for a check-up and ensure all vaccinations are up to date. It is also worth researching the details of a local vet in the area you are visiting in case of an emergency.
Pack some chews and toys – especially if you have a younger dog. No one wants chewed furniture, and it can help them relax and settle in.
Make sure you bring your dog's bed with you. Most places that are dog friendly will still not allow dogs on the bed, and the familiarity of his own bed will also help him to settle in.
Make sure your dog's ID tag is always on his collar and has your contact phone number. Even if your dog doesn't usually always wear a collar at home, it is advisable to leave one on while you are away in case, he does unexpectedly get lost.
Pack a couple of dog blankets to throw over the furniture. Most accommodation will have a "no dogs on the furniture" rule, but in reality, your dog will probably want to jump up! Our Floofy Fleece blankets are perfect for this as they are a generous size, and easy to wash and dry. Floofy Fleece Dog Blanket | Cosy and Stylish | Snoot Style
Make sure you take towels, especially if you are going to be visiting dog beaches or muddy walking trails. Our Splish Splash drying mitt is perfect to keep in the car or at the front door for a quick wipe of muddy paws Dog Drying Mitt | Splish Splash Range | Snoot Style Our Splish Splash towels and drying robes are also perfect to keep the sand and mud out of the car and house.
Don't forget to pack all your dog's daily food and treat requirements. Changing his diet unexpectedly can cause an upset stomach.
And finally, don't forget all your dog's general requirements. Food and water bowls, poo bags, car harness, collars and leads. If you are like us your dog's suitcase will be bigger than your own!